Wide fork triple trees kit for Triumph T100-T120 (2016-...)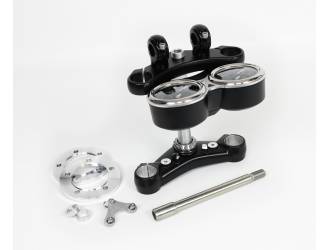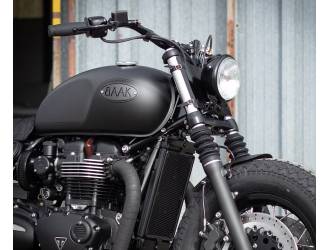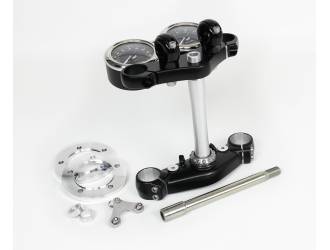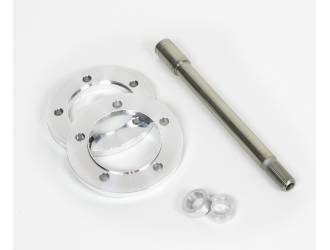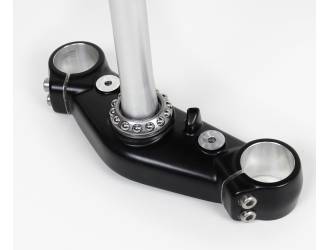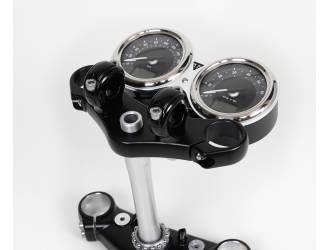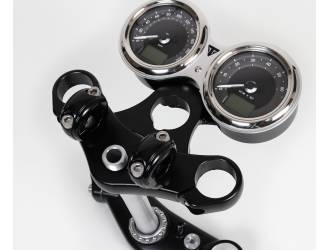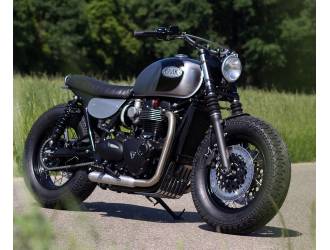 Wide fork triple trees kit for Triumph T100-T120 (2016-...)
Wide fork triple yokes kit for Triumph Bonneville T100 / T120 (2016-... - liquid-cooled), it enables you mount a wide front tire (3.50). The kit includes the upper and lower triple trees 20mm wider, the lower bearing, the brake discs struts, the handlebar clamps and the wheel axle. Enable to lower the front end by 25mm. This kit is used on our Triumph Bonneville T120 Bobber.


We recommend you to choose our Big Body short shock absorbers for Triumph (2016-...) in addition to this kit to proportionally lower the rear end of the motorcycle.
Description
The handlebar clamps are available in 1 inch (ø25,4mm) or ø28,6mm diameter.
Beware to choose the corresponding option for your kit : 
With relocated ignition switch bracket only
with original speedometer bracket / relocated ignition switch bracket
With ignition switch and speedometer bracket
The speedometers are not included in the kit. Make sure to purchase a universal Front fender  along with our Front fender brackets.
Pictures of the Wide fork triple trees kit for Triumph T100-T120 (2016-...).
This product is compatible with the following models (click the model for more details):