Headlight brackets for original headlight for Triumph (2016 - …)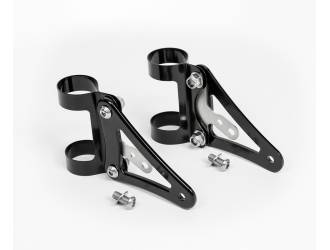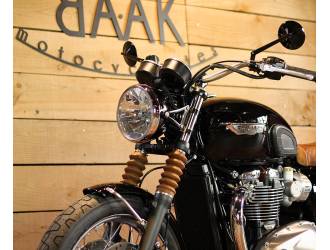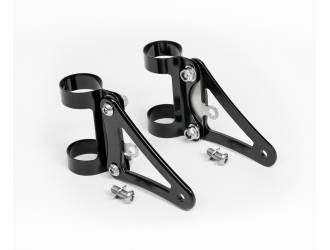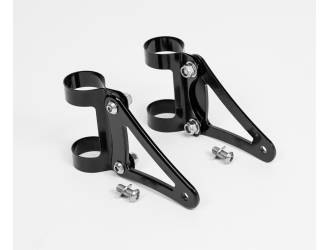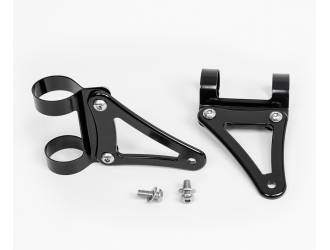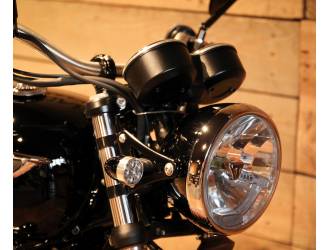 Headlight brackets for original headlight for Triumph (2016 - …)
Headlight fixation brackets for Triumph original headlight (since 2016). This pair of lighthouse brackets come to replace the original ones and reveal the fork tubes. Suitable for the Triumph T120 / T100 Street Scrambler / Street Twin / Thruxton 1200 (since 2016) original headlights.
The optional turn indicators brackets enable mount on the headlight brackets Triumph Motorcycles OEM / Accessories turn indicators, or Universal turn indicators with a Ø8mm classic shaft or Ø10mm classic shaft. Comes in pairs.
Made in France
Description
The tubes collars are made out of stainless steel Ø41mm and the brackets are aluminium satin black powder coat painted. All the necessary stainless steel screwing is provided. Beware to get a Front turn indicators fixation bracket (for universal or Triumph blinkers) to relocate your turn indicators after you replace your original headlight brackets.
The assembly of these headlight brackets require that you relocate the rectifier using our Rectifier bracket for Triumph (2016-...) excepted for EURO V bikes where the rectifier is behinh the radiator. 
To mount these headlight brackets on a Triumph Street Twin, please make sure to choose a solution to put your original speedometer back on the motorcycle, we recommend you to use our Side speedometer bracket for Triumph Street Twin / Street Scrambler (2016-...). Indeed, the headlight bracket assembly will change the headlight position and there will not be enough space for the speedometer.